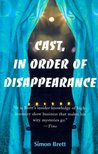 Cast, in Order of Disappearance
by
Simon Brett
My rating:
4 of 5 stars
Simon Brett is a prolific writers of whodunnits, with four series and more than 30 books to his credit. So, whenever I am toiling my way through an insanely slow and boring book which I decide to not to finish, I pick up one of his books, which instantly provides me with a sense of satisfaction, which I get from reading a good work of crime fiction.
Charles Paris, a mid 40s theater actor, the protagonist of this book is approached by an young girl, who wants him to be a bridge between an aging superstar and herself. She was besotted to him, even a few days back, but recently she got the boot from the old man. And now she is receiving threatening letters from the old man. So, as far as the plot goes there was nothing new to be found, but since I was not searching for anything new but something stable, I was more than happy with the pace and the line of the plot.
Like an economical medium pacer the book kept its line and length intact, and managed to survive without many down points or yawn moments. Yes, the pace was slow if compared to today's style, but this was not a gory Scandi thriller, thereby breath-taking pace was never needed. The subtle humor, present in almost all Brett novels was very much present. But, the best part of it all was that the writer never made Paris to look like an official amateur detective. All along the plot he maintained a stance which showed clearly that he didn't have any official authority to snoop, but did that just because somehow he got caught up in the whole mess.
View all my reviews